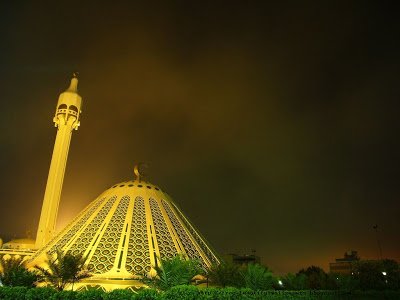 village near Isfahan…Salman was informed that: "the time of a prophet of the religion of Abraham is near at hand. This prophet will arise in the Arab country, and will flee to a region situated within two stony ranges, which contain date trees. He is endowed with marks, which cannot be concealed, consumes gifts but not alms, and bears the seal of prophecy between his shoulders. If thou art able to go to that country, do so".
"Salman then travelled to Arabia, and when he arrived in Medina, which lay between such tracts, he immediately recognized the description. The Bishop of Mosul was also quite emphatic that the messenger would have the seal of Prophethood between his shoulders. When Salman heard of the arrival of Muhammad (Peace Be Upon Him) and his companions from Mecca, he was elated. Salman had the opportunity to test the Prophet on all of the characteristics he was told he would have, and they all proved to be true. The Prophet (Peace Be Upon Him) also gave Salman the opportunity to see the Seal of Prophecy on his back, between his shoulders. It was exactly as his bishop had described. Salman kissed the markings, cried, and told the Prophet (Peace Be Upon Him) what had been related to him by the scholars of Syria and Iraq."
"The Prophet Muhammad (Peace Be Upon Him) was expected all over the Middle East [and world]…The Prophet Muhammad (Peace Be Upon Him) said he was a "friend and brother of Moses, who confirms the revelation which Moses brought (Peace Be Upon Them)". That alone corroborates the theories of Biblical scholars…it also confirms my arguments, that the laws of the Amorite Babylonian, Hammurabi, and those of Lipit-Ishtar…"
"When the Prophet Muhammad (Peace Be Upon Him) began receiving his revelations and word spread that a Prophet had arrived among the…Arabia, the Jews of the peninsula took note. They were all aware that such a prophet was expected at that time" – (Unveiling the Messiah in the Dead Sea Scrolls, Xlibris Corporation, Bloomington, Indiana, 20123, pp. 422-464).
We would also refer in these chapters, apart from the Heavenly Scriptures, to support our evidence, some of the decisive critics who had to acknowledge this truth.